ESM BF-110C ZERSTORER 95" TWIN

02-09-2018, 03:50 PM

Join Date: May 2003
Location: Utah
Posts: 151
Received 0 Likes on 0 Posts

---
Thanks Katniss, That was a clear answer.. so you run 2 batteries but they are parallel.. that makes sense.. In your setup would it be possible to use one battery as opposed to running 2 in parallel? I imagine it would require a battery with more capacity? Is it easier to use 2 batteries (and maybe less expensive) as opposed to one super battery?
I am learning
I am thinking along the lines of the Dynam Me 110 which I have.. it uses one battery and 2 esc but of course those are much smaller motors..

02-09-2018, 04:27 PM

Join Date: Nov 2013
Location: Colorado
Posts: 266
Received 0 Likes on 0 Posts

---
My opinion would be no on only using one large battery. I don't know what motors you're running, but on mine. ...ive got two power 60s turning 16x10x3s. With two 6s 5000s in parallel, that's 10000 mah of capacity. I get 6.5 mins of flight time.
I can see running one battery on the dynam plane because it's significantly smaller and takes less power.

Another reason to run two packs in parallel is if one battery overheats, drops a cell, or suffers something else going wrong, the other battery is still supplying power to the motors.
If only one huge battery, then on a battery failure, that's it.... Deadstick.

And yes... .Run a separate rx battery.
Replacement costs for a 5000 mah battery is far less then a 8000 or 10000. Additionally, you're spreading the amp draw between two packs in a parallel setup instead of overworking one giant battery. Longevity will be better on pack life using two batteries.
---
Last edited by Katniss; 02-09-2018 at

07:54 PM

.

12-01-2020, 09:32 AM


---
Built this ESM ME 110 Zestorer kit some years ago, probably 12 years. Loved the looks of the German Fighter, did not know much at the time of its history and or its performance.
After purchasing the kit and various books on the fighter, realized its performance was mediocre at best. Its agility was very poor, the acceleration about the same. It only had its endurance, range, high end speed and firepower going for it.
I realized I had fallen in love with the looks of a flying turkey. I had invested a pretty good amount of $$ on this model and looked for options. Searching in the all the books I had purchased, I found another obscure and unknown use given to the ME 110. This utilization is not known to most, the night fighter strand.
I purchased a couple of books on this strand of the ME 119 history and found the flying eagle I was visualized building. The ME 110 Night fighter was one of the best if not the best night fighter of its time. Armed with 30 mm cannons firing to the front, two more 30 mm cannons firing thru the canopy on a vertical axis right into the belly of the bomber and its machine guns facing the rear, it was a formidable hunter. It also had night vision with its radar which guided the pilot to its victims. Its record sustains that claim and British night raids suffered from its superior performance and tactics. I decided too built the ME 110 Zestorer night fighter and the results were excellent.
The model has a 95" of wingspan, length of 78" so it's not a pocket model. It is powered by two RCG 26's with 16 oz. gas tanks. Retracts are made by Sierra. The model is control by my faithful Futaba C9 still in MHz frequency, no competition for frequency now. It uses all its 9 channels. The model has a ton of servos: 2 aileron, 1 hi torque for elevator, 2 throttles, 2 rudders, 1 tail wheel, 2 flaps, 1 retract, 2 wing drop tanks and 2 bomb drops. (The ME 110 night fighter was also used to attack allied ground formations in the night). It gets the juice from a 4500 mah LIFE for main and a 3K Life for back up.
The model has a full cockpit and crewman area, including radar section and rear machine gun. It also has a full body pilot and rear gunner/radar man.
The Zestorer ME 110 model flies very well, its rudders even thou seem tiny, due to the length of the fuselage they do manage very well the model tracking.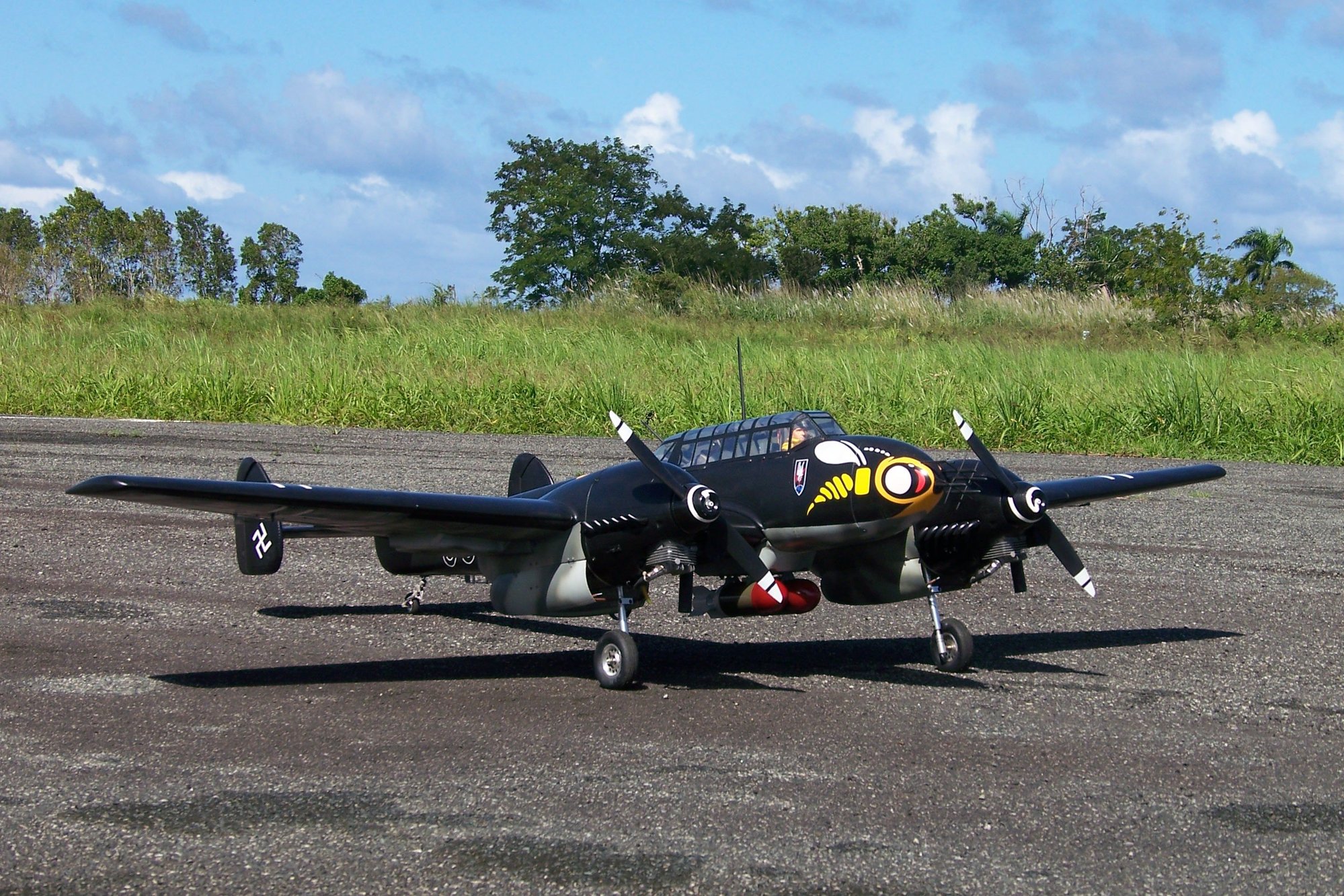 Full cockpit Pilot
Full interior Machine gun/ radar operator
Radar operations area
Taxinf to runway maiden flight
Taxing to runway maiden flight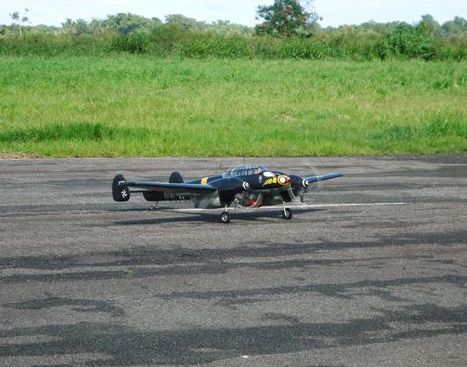 aligning for take off maiden flight
Dropable left Wing tanks installed after maiden
Drpable right wing tank installed after maiden