TopRCModel FW-190

02-28-2023, 08:35 AM


---
You can check out my work on RCSB. I kept the original tub and had to narrow the IFLYTALLIES CP to fit. Easier that creating the whole CP again.
Wit the pilot in the CP you cant really tell the difference.
Sparky

02-28-2023, 12:56 PM

03-19-2023, 04:30 PM

---
managed to get a little time in last night when it was a bit cooler.
Have added brackets to mount the cockpit floor to. There is an accurate panel line on the outside of the fuz which according to my ref materials is close to the floor level.
I have used this as the reference point as it places the floor just above the rudder & tail wheel cables and that servo.
Luckily I could see the line through the fiberglass material on the inside which made a very simple job of marking some pencil lines. That wa safter i spent an hour or so working out how far down using bit of cardboard as a guide. I was very close with that method though
The brackets are just tack glued with CA at present and will get Hysol top and bottom once I am 100% happy with placement.
I'll make a template out of stiff cardboard that I will then use for placement of seat, joystick, side panels etc.
Jiri Pre will make the scale bits for the floor based on those measurements.
My aim is to make the cockpit removable in parts so I can access the cables and servo under the floor.
Seat will be held on with a couple of bits of velcro, side panels I am not sure but possibly thin velcro strips sitting on some brackets that are glued to the fuz side wall.
Floor will be in 2 pieces, front which is about level with the instrument panel and will have the peddles attached and the rear section which will have all the other bits.
Joystick most likely need to be removable somehow as well. With some luck and planning I can remove the floor then for access underneath.

03-26-2023, 01:17 PM

---
made up the cardboard floor templates over the weekend, weather is still awfully hot and humid so made it most unpleasant. Also ran up the engine on the P51 which has the bonus of annoying my A hole neighbour behind. How is your "amenity" ? Tosser!!
Anyway the floor will be 3 piece and all able to be removed. Rear section the seat sits on and think that magnets may indeed be the best option so I can easily remove the seat.
Next piece sits just on the former and will have control column. Last piece has pedals and needs to be easily removable of listed up so I can get at the wing hold on nuts.
Not quite sure how to do that yet but I will find a way. Sides of these sections will not extend right to the sides of the fuselage as you wont see that and will make getting them in and out easier.
This piece will have another like it at the front with the peddles and will be easily moved up and out of the way to access the wing nuts. It will go up to the forward former.
Sketch of the floor
Working out where things go. Kagero have some very good books on the FW-190. My floor will sit higher as I have to allow for the control cables. I have the 15th scale seat and cockpit bits so that compensates.

04-07-2023, 02:50 PM

---
Started doing a few little things while I wait for 3D printed parts for the floor.
Hatch area behind the pilot which held the water / methanol mix. Made from cereal box. Should look ok once primed and painted.
Piece that folded down behind the seat as well.
Need to get some plasti-strut girder "U" and angle sections for the seat mount and on each side of the seat. Will need to source that online.

04-11-2023, 08:39 AM
Junior Member
Join Date: Sep 2020
Posts: 12
Received 0 Likes on 0 Posts

---
Hello Everyone, Next month I plan to sell my TopModel FW190.

Turn key model with a low time (3 gallons) Moki 150 radial engine, 10 total flights on model , CH Ignition upgrade, APS fuel pump with twin fuel tanks.
Moki engine lubricants for valve maintenance, prop drill jig, spare props
Gator RC FW190 Spinner, Tru Turn prop adapter, fan.
All Hitec high torque servos on flying surfaces.
Sierra Giant Scale gear, main wheels and tailwheel, air tank, air valve and air gauge
XPS X16 Channel expander for serial communications with two Futaba R70008 receivers.
IFlyTailies scale cockpit and pilot
PVC stand for working in shop and transport frame for fuselage.

Gear doors are damaged from less than perfect landings but can be replaced.
PM me if interested for FW190 pictures and I will send you my email address to exchange pictures and answer any questions.
Add will post in May as well.

Regards, Bob


04-21-2023, 05:45 PM

05-02-2023, 01:09 PM

---
I'll have a nylon washer on bolt and that will mate to the deck and bottom of the slider plywood.
A piece of teflon would work better but can't find any.
I'll give bottom surface of the plywood a good think coat of primer and sand smooth to reduce any binding.
Should work well.
I got the cockpit floor pieces from JiriPiri yesterday, front section is 3D printed. The file for that is in the 3D print section of RCSB and could be easily modified to fit other similar sized FW-190s.

05-03-2023, 01:29 PM

Join Date: Mar 2008
Location: Novato, CA
Posts: 377
Likes: 0

---
Hey Planenutzz,
I could never get mine to work right using the same actuator and the 3 slot approach. As the canopy got near closing it would not line up with windscreen. Too much lateral wiggle. Curious to see your finished build.

jim


05-19-2023, 11:34 PM

---
Sliding canopy pretty much done. Some scale details and painting to do in it before the clear glazing go back in.
Front cockpit floor needs a little trimming but is very close. It is very flexible and the idea is that I can easily remove to access the wing bolts.
Waiting on new cockpit kit to arrive, a 1/4 scale one. The 1/5th seemed a bit small. Anyway I will have both to pick and choose from if need be.
Might even get some painting done tomorrow.

Cardboard template of actuator mounting bracket
Actuator and bracket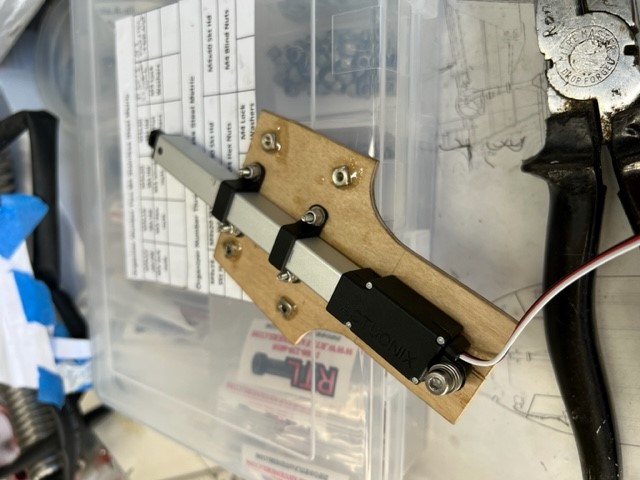 Actuator mounted with 4 x 3mm counter sink screws into blind nuts.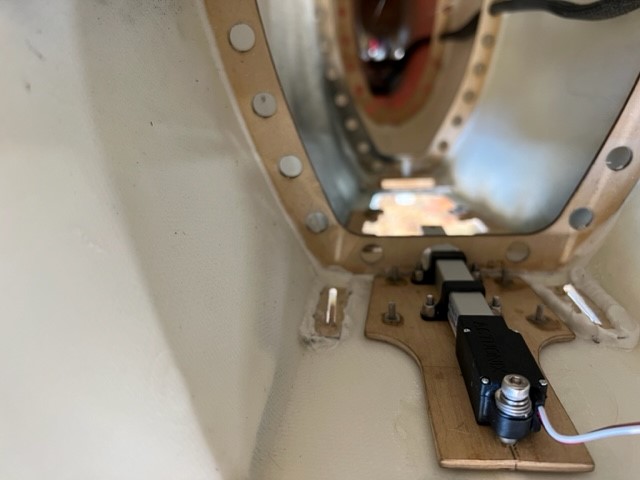 From the top.
Works !!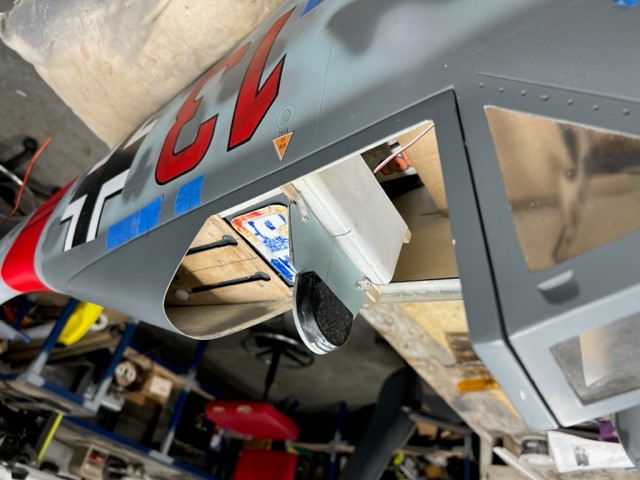 Front cockpit floor. Will pretty much just sit there and be easily removable to access the wing bolts and leads.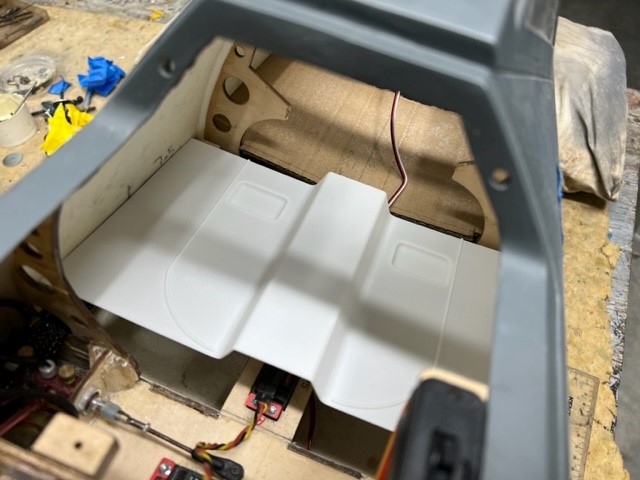 Just a little trimming to do.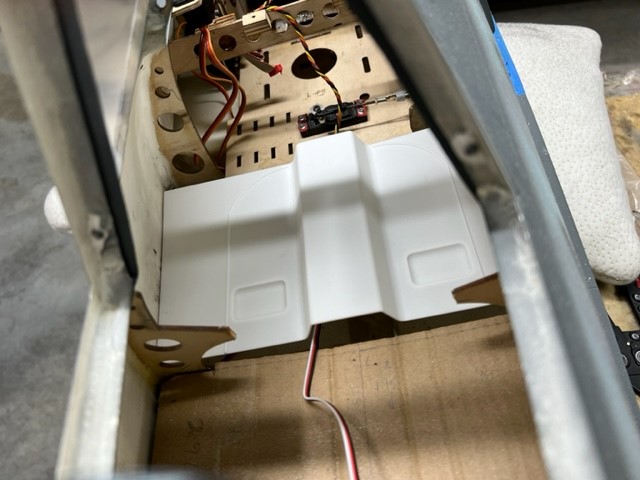 05-26-2023, 02:25 PM

---
Been working on some scalish details for inside the canopy area. The pilots armour plate headrest has a bracket that goes rearward to another vertical bracket. Been trying to replicate that.
The piece of 20mm x 3mm aluminium flat I am using is too wide and too thick, not to mention heavy but is useful to work this stuff out. I may try to use some plastic sheet I have which is about 0.5mm thick, clamp the side and heat then roll the edges like the full size has, that will add strength.
Or I may try to find some 15mm x 1mm flat ally bar that would work too.
All concepts in my head at the moment.
Got myself a new warbird, a blackhorse Typhoon, only small but fully decked out and will be a fun simple warbird to trot out. Pick that up today.
After all of that it was time for a rest and coffee.