Barn Find part 1, OutRigger

08-18-2018, 11:53 AM
Junior Member
Join Date: Aug 2018
Location: York Pa
Posts: 13
Likes: 0
Received 0 Likes on 0 Posts

Barn Find part 1, OutRigger
---
So here trying to first get any info on a few boats I bought . first boat 38" Outrigger ...... has anyone ever seen an outrigger made completely of copper sheeting its an old build cleaned it up and very nice .. also the picco not stamped any way of finding size ? thanks

08-18-2018, 01:05 PM

---
45 size Mongoose from the late 80's early 90's. Engine is likely a 45. If you take the prop off
and look what size it is on the hub that will be a good tell. To prep the engine for cleaning a oil
soaking for a few days inside a container. Bag it up if you don't want to clean it yet least no more
rust will occur. I have seen the Mongoose run it was fast for it's day and popular the "it" rigger to
build.

08-18-2018, 01:38 PM
Junior Member
Join Date: Aug 2018
Location: York Pa
Posts: 13
Likes: 0
Received 0 Likes on 0 Posts

---
Thanks .. Skipper . Been wanting back into the boats had a few electric and a Miss bud pro hydro nitro never anything to the scale of these boats . Ill add the pics of the others I know about the prather cat 2 with the 7.5 that is actually new never finished ,The 38" yellow v and the 44" miller hydro looking for any info would help .thanks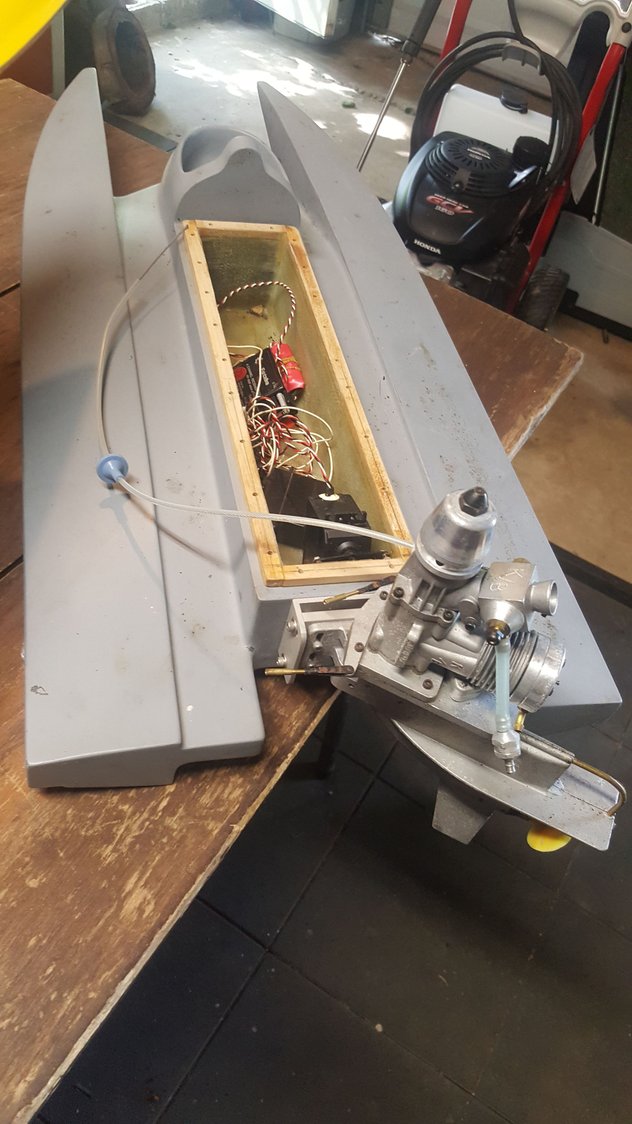 Miller Hydro is all wood construction.

08-18-2018, 05:02 PM

---
You have amassed quite a collection the labor time to set them up and parts surly has seen some
investment. All of them should be good runners and first tests should be good as the previous
owner has surly ran them finding good props during the testing. Just a matter of enjoying them.
The tunnel should do 60+ on a calm day. Really it's down to cleaning them up polishing what
you want to as far as aluminum parts and testing them as you have time.