Radioshack Enforcer modified from all stock parts

03-12-2011, 10:36 AM

Join Date: Mar 2011
Location: Richardson, TX
Posts: 49
Likes: 0
Received 0 Likes on 0 Posts

Radioshack Enforcer modified from all stock parts
---
I built this enforcer for off-road from other radio shack cars to see how far you can go on stock parts. Now it performs night and day over what it did stock. It can climb anything and run 45mins all off factory late 90's parts.
1. swapped rear end for intruder rear end to cut the gear ratio in half and double the torque and run time.
2. locked both front and rear axles simply by super gluing the differentials.
3. upped the voltage from 7.2v to 1600mah 9.6v
4. swapped the motor out for one from a 1/14 new bright 99 silverado 9.6v. It makes more than double the low end power.
5. cut front bumper, removed battery door, simulated fuel tanks and rear bumper to improve ground clearance tremendously.
After building it up I decided to put a Tamiya Nissan king cab body I custom painted with full detail including tinted windows. I made custom mounts for it and set it up with velcro so I can pull it on and off anytime and it holds super tight when its on.
The truck is now much lighter, 4 times more powerful, runs 4 times longer and off-roads like never before all on stock driveline parts. The best part is its still using all its factory electronics and controller.
This is the truck radio shack could have built

03-12-2011, 01:01 PM
Senior Member
Join Date: Dec 2008
Location: , QC, CANADA
Posts: 1,275
Likes: 0
Received 0 Likes on 0 Posts

RE: Radioshack Enforcer modified from all stock parts
---
Tyco Bandit King.
You have a beautiful collection of rc truck.
Good work on your ((Radioshack Enforcer))
I already had some products Radio Shack, and fun to make them mods was pleasant.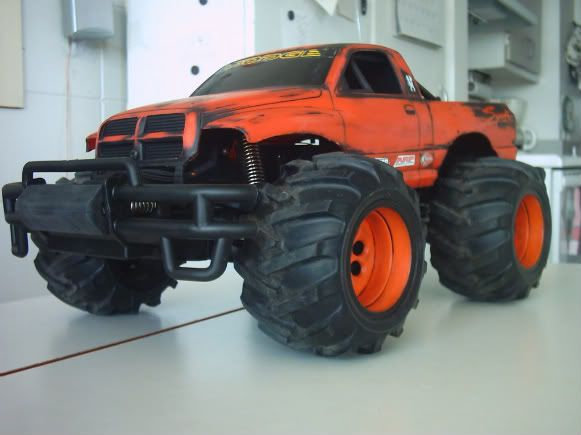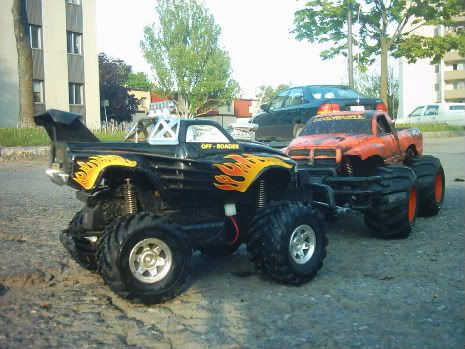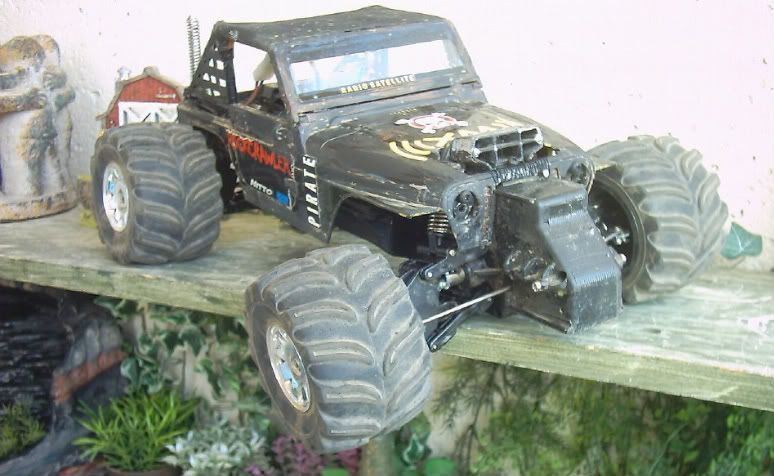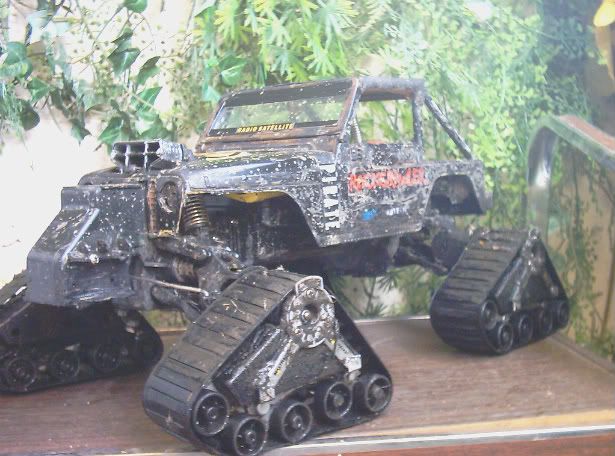 03-12-2011, 01:33 PM
Senior Member
Join Date: Mar 2009
Location: Prairieville, LA
Posts: 218
Likes: 0
Received 0 Likes on 0 Posts

RE: Radioshack Enforcer modified from all stock parts
---
That is Sweet!!!! Please post some pics of the intruder that you got the rear axle from....I have the same truck & would like to improve the torque[8D]