Traxxas 4tech v3 Factory Five "hot rods"

05-06-2022, 02:18 AM


Traxxas 4tech v3 Factory Five "hot rods"
---
I'll be doing a vid in a month, or so, about building this up better than stock, but, lets start with the out of the box, bone stock, rtr.
First off, that body, it hits all the right gearhead buttons. There's something sexxy about an early 30s Ford pick up in candy and flames that just says "Hop in, Lets go for a cruise."
This, coming from an RC flyer, not driver. In fact, this is my first, tunable/upgradable rc car...
Traxxas has been kinda the punching bag of the rc car community for a while, and I'm not saying that some, if not most, Traxxas brought on themselves. Their business model is sell a basic rtr, and then make the money on upgrades, and usually, those upgrades have to happen sooner than later because the stock parts break, fast.
Now, my broken part was purely my fault, I failed to read the instructions, changed the pinion and didn't move the motor...so I melted a spur gear. Not Traxxas fault, but mine. I freely admit to it and freely admit I got a case of dumb*****. I'll get to the rest if that story in a moment.
Back to the 4tech. First, its an AWD chassis, and, in my research, was origionally designed to be an awd drift chassis, that was then adapted to street rc cars. It tends to want to be what it was origionally meant to be. This thing loves to slide through a corner. The only time it won't is in the gentlest of curves..more than a quarter steering input at half throttle, its sideways, and I love it. Even with the tail sliding it corners like its on rails thanks to the AWD. Its no speed demon with the brushed motor, but not a slouch either. Put a 2s 7200 50c in, along with the bigger pinion, hang on. You going for a ride. I have yet to see a reason to go brushless with it.
The downside of the 4tech factory five chassis is that its factory five body specific, and even just switching factory 5 bodies from the 35 pick up to the 33 coupe requires changing the rear body mount. The wheelbase is longer than the 4tech v3 Stingray by about 2 mm or so.
This means that aftermarket aluminum lower control arms for the "standard" 4tech v3 are not compatable, neither are the diff covers or bulkheads, This also means that the sway bar kit for the v2/v3 won't fit. Beyond that, the rest seem to be compatable,
It still uses the same motor mount and gear cover as the Stingray, same upper links, and front brace.
The tray/frame doesn't flex a bunch front to rear but I did see some twist at times so a full length bulkhead to bulkhead brace may be warranted if you plan on using a v3 of either type for high speed runs, or awd drift. The twist wasn't much, just enough to be noticable on the 550t. I imagine that brushless could make it more pronounced. As there doesn't seem to be a full length brace available, that means fabbing one up yourself. Not a difficult job with some ready made cf plate.
Aftermarket: about the only suppliers for aftermarket performance parts for the 4tech that I've found are Traxxas, Hot Racing and GPM. Of the non Traxxas suppliers, GPM parts may hold up better, although, in respect to the gear cover, only Hot racing has one that also allows larger spurs and pinions. They also have the only steel spur gears I've found that are 4tech specific, in a couple different tooth counts. Traxxas offers more, but plastic.
Now the rest of the spur gear story. After having melted the spur, and, in trying to figure out what I goofed up, I hopped in chat at traxxas.com.I was simply told "buy another spur" not why it happened, or how to prevent it from happening again, but "Its a designed point if failure to reduce repair cost"...wait...what? Gears don't melt just because. There's a reason. In my case, I didn't move the motor on the mount. The response should have been, basically, what I got when I asked the same question here at rcu. "Mesh was too tight, when you changed the pinion did you move the motor?"
That, I would have been fine with, I'd have Gibbs slapped myself as I ordered a new spur gear. Instead, I wanted to slap the Traxxas support rep. He saw parts income and didn't want to permanently resolve or show me what I did to cause it to begin with.
So, in the end, my major issues are not the chassis, but their tech support.
Will I buy another Traxxas...maybe, will it be the next one...no. Not until I have enough knowledge about rc 4 wheelers to not need Traxxas support and a better idea of who makes parts for what.
In the end, even if you swear by rc car kits, this is a darn good rtr to have to toss around on the driveway or parking lot. As I said, it won't do 100 mph with a brushed motor but with slight tweaks 40 mph is within reach, even brushed. Its a good base to build on, if you want more. The slightly longer wheelbase may even lend itself to high speed stability and the fact it has the room so no electronics are "stacked" means low aerodynamic bodies if you can find one to match the wheelbase. With the right aftermarket parts, 100 plus would be a piece of cake. Possibly 150 with the right motor, esc, battery setup. The problem for the factory five in doing that is the incompatability with the parts needed to really stabilize it at those speeds. Hopefully Traxxas, or someone else, steps up and makes those parts available for the factory five specific. Time will tell.
In the meantine, I continue parts shopping to "encourage" this thing to drift :-)
Another shot of the ruined spur gear. Don't make the same mistake.
Chassis layout, no "stack mounted" electronics. For you speed runners this means low profile aerodynamic bodies that will sit down as snug as you want.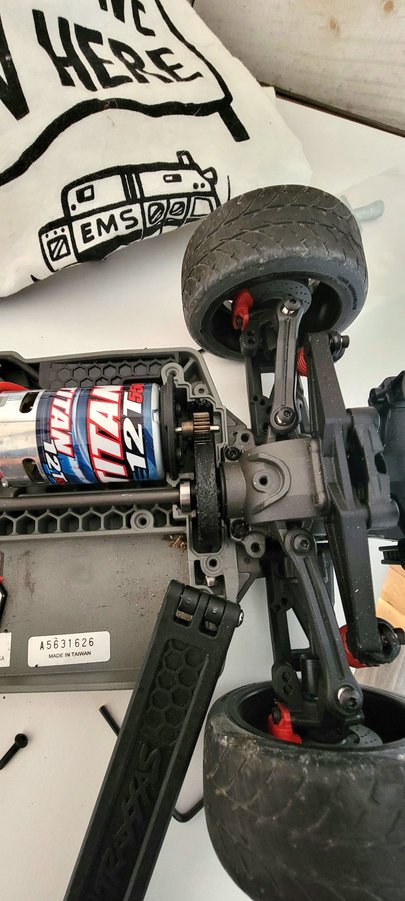 You can see some wear on the rear tire as well as the destroyed spur gear. The tires are hard rubber. But its going to need regular replacements. Looking for drift tires to go on the factory five rims, or wheels/tires of same dimensions.
---
Last edited by Txmustangflyer; 05-06-2022 at

02:44 AM

.