Folding Contra props for Adverrun and Brenner

11-29-2019, 04:33 AM

Join Date: Mar 2010
Location: Mendon, MA
Posts: 1,275
Likes: 0

Folding Contra props for Adverrun and Brenner
---
Got this in an email from Precision Aero Products in Australia.
Folding props for Contras from PT. Available for Adverrun and Brenner style.
The interesting thing is the prop sizing between front and rear.
Is there an advantage to folding props (standard or Contra) on an F3A plane?
Im hoping Mike at F3AUnlimited carries them, I'd like to try a set just to see what it sounds like.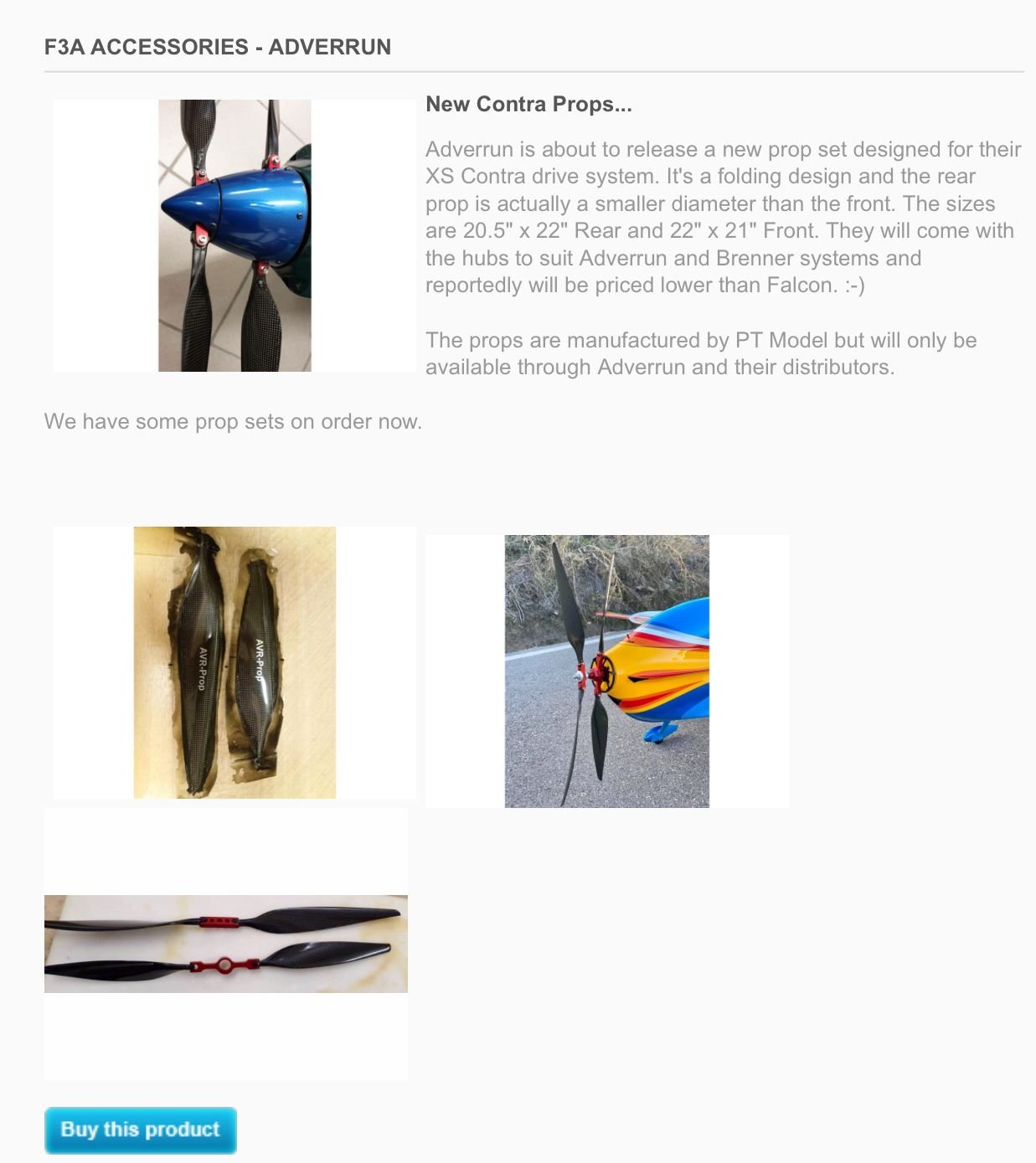 12-03-2019, 01:28 PM

Join Date: Jan 2018
Location: Sorrento, Florida
Posts: 73
Likes: 0

---
Just spoke to an F3a friend in Japan and he says it's the obviously to get some security against extensive damage from a rough landing. He says they are looking at the same products there. While he's not certain of the reversed diameter stagger, he sees some possible benefits in flight trimming but it may just be due to the folding feature.
---
Last edited by ted32776; 12-03-2019 at

04:34 PM

.

12-21-2019, 10:17 AM

---
Interesting.

The smaller diameter rear prop is to keep the tips of the rear prop out of the tip vortices of the front prop. The folding aspect.....it is a "buffer" per se. Flexing of the prop discs reduces the peak gyroscopic load on the props during pitching / yawing. The gyroscopics can steer a plane left/right in pitch or up/down in yaw and is most noticeable on a single prop system, and least noticeable in a true torque sharing Contra (Brenner V3, V4, or RS).

I presume the hinge limits the amount of movement so the front and rear props can not cross paths?


03-17-2020, 09:40 AM

Join Date: Jul 2004
Location: Clermont, FL
Posts: 96
Likes: 0
Received 0 Likes on 0 Posts

---
I had ordered these props for my V4 Brenner Contra unit to try, but just before they were shipped I received and email that these will not fit the Brenner Contra units. So i was issued a refund. So to my understanding they are strictly for the Adverrun system unfortunately.