Problems getting an electric conversion to fly

08-09-2018, 06:58 AM

Join Date: May 2007
Location: Lake Alfred, FL
Posts: 141
Likes: 0
Received 0 Likes on 0 Posts

Problems getting an electric conversion to fly
---
Joined May 2007
19 PostsHelp!
Any suggestions as to technique or tips on flying an electric conversion?
About 8-9 years ago I designed and built a seaplane (60" wing, .40 engine). The engine was mounted in a pod above the fuse (see photo). Due to engine position, it was hard to control the up/down movement, probably due to the elevator not being inline with the prop. I haven't flown my planes for about 7-8 years and am getting back into flying. I decided to convert the seaplane to electric. The plane is about the same size and weight as the size 40 Catalina model so I ordered the same size engines and props (1100 KV, 8/6 3-blade counter rotating props). I made one attempt to fly it with bad results. I probably didn't have enough speed and tried to lift off too soon. It pitched up, stalled and flipped over into the water. I didn't shut down the power soon enough and one prop came off and was lost. I had some minor damage that has been repaired and a new prop. I am new to electrics. Are electric conversions typically lower powered than the nitro versions? BTW, I mounted the motors with about 2-3 degree down angle, but no side angle since the props counter rotated. The elevator is now pretty much in line with the props. Any suggestions as to technique or tips on flying an electric conversion?
These are the specs:
Total weight with two 1100 KV motors with 8x6x3 counter rotating props, two 40A ESCs,and two 3S batteries: 5# 4 oz. Weight without batteries 4# 15 oz. Wing: 12" x 60". It can possibly take a 9" prop, but not a 10" as it could hit the water and spin off the pusher prop.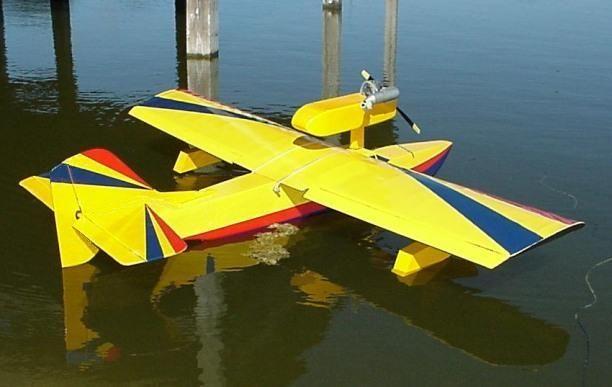 ---
Last edited by cracker39; 08-09-2018 at

07:05 AM

. Reason: missed content first time

05-13-2019, 06:07 PM

Join Date: Oct 2004
Location: Arroyo Grande, CA
Posts: 725
Likes: 0

---
Hello Dale,

I feel your pain. Having a model that doesn't want to fly is really frustrating. The key item is that you need a fairly well matched set of motor, speed control, battery, and propellor to give the power you need. If even one of the 4 components is undersize, you won't have enough power to fly the model.

OK, let's start at step 1. I can't tell the power of your electric motors from the information provided. The "1100 KV" number just tells us how fast the motor wants to spin with no prop installed. The analogy with glow motors would be to say that you have a 10,000 RPM motor, but don't know if it's an 049 or a 60. What we need to know is the "watts" rating of the motor. That's like "horsepower" in a glow motor. Many manufacturers don't list their watts, so that might not help us much. Do you have an amp meter or know someone you can impose upon to measure the full throttle current draw of your motor with the prop installed ? Even knowing the motor RPM under prop load might give us some idea of the power of the motor.

If you do have some information of the watt rating of the motor, I'd say you need around 180 to 200 watts per motor to make the model fly.

Next step is the battery. The 3S number of the battery just tells us how many cells you have. There should be a number like, "1000 MAH" on the outside of the battery. Again, I'd say that you need batteries of about 1800 MAH each to fly your model. Checking the model weight that you quoted, I see that the weight with batteries is only 5 oz. greater than the weight without. At 2.5 oz. each, those are mighty small batteries; probably around 900 MAH. To fly your model well, you will probably need batteries that weigh around 5 oz. EACH.

The last item is prop location. I apologize for being so critical, but I learned to my own dismay that seaplane props in that location will pick up a lot of water from the bow wave as you get going. The props bog down and make very little thrust with water pouring through them. You will probably find that the thrust line of the motors will have to just as high with your twin as with the original glow motor installation. That's one of the reasons that most seaplanes are single engine. The single prop is centered between the twin bow waves and don't pick up any water. The twin version props are perfectly positioned to pick up the bow waves.

Best wishes,

Dick