building equip

01-10-2004, 09:52 PM
Junior Member
Join Date: Oct 2003
Location: Athens, GA
Posts: 28
Likes: 0
Received 0 Likes on 0 Posts

building equip
---
Im setting up a building table, i have an old door and styrifoam to go on top of it, what other basic tools do i need to be able to build most planes?

01-10-2004, 11:50 PM
Senior Member
Join Date: Oct 2002
Location: Wilson, NC
Posts: 1,179
Likes: 0

RE: building equip
---
Make sure you door is flat and not twisted. But here's my list of basic's;
Knife handle and assorted blades (a lot of #11's)
screwdrivers, phillips and slotted
Ball type allen wrenchs, metric and standard
Exacto saw
Good metal striaght edge (two or three of different lengths would be very good)
Clamps, pins, weights (like shot bags)
Two or three types of modelers buliding squares
Couple types of pliers and wire cutters
a dremel with a decent assortment of accessaries (cutting wheels and drill bits)
After this everything else is gravey !!!

01-10-2004, 11:58 PM

RE: building equip
---
I just finished building my shop. Here are some things I found I needed:

GOOD Hobby Saw & Miter Box ($15)
X-Acto knife with LOTS of #11 blades ($25 knife and 100 blades)
Single Edge Razor blades ($3)
Metal straight edge rulers 36" and 6" ($15)
Small metal T-Square ($8)
30 and 45 degree triangles ($6)
Small and Medium T-Pins ($5)
Clamps ($.25 each)
Rubber bands ($4 for a BIG bag - Office Depot)
1/8" Brass Tubing - Handy for making small hole saw and more ($2)
150 and 220 Sandpaper ($3)
Sanding Block (Make it!)
CA (Medium and Thin) ($4)
5 and 30 Minute Epoxy ($12)
Wax paper (Stole it from the kitchen!)
Blue painters tape ($2)
Drill bits 1/16" thru 3/8" ($15 - Home Depot Sale)
Pliers - See Below
Tweezers - See Below
Small wire cutters ($15 for a nice 5 piece set at Home Depot)
Small Hammer ($6)
Shrink Wrap Tubing ($3)
Soldering Iron ($15)
Heat Gun ($12)
Sealing Iron and Sock ($13)

I'm sure there are lots more, but that is what I found I was running out and getting on the way home to do something right. Take my word on it, get the right tool for the right job. It will make your model 100% better in the end. I am building a GP Extra 300S. It's my first model, and I am planning on taking as much time as it take to do it correctly the 1st time.

Also, I found that if you get the "White Peg Board' instead of the brown stuff, it brightens up the shop bench and is worth the extra $3 a sheet. I got mine for about $13 for a 4x8 with 1/4" holes.

01-11-2012, 03:22 PM
Junior Member
Join Date: Oct 2003
Location: Athens, GA
Posts: 28
Likes: 0
Received 0 Likes on 0 Posts

RE: building equip
---
I just finished converting the Power supply from an old computer into a Lab Style PSU. It gives me 5v 12v and -12v DC at my Table! Total cost was under $10!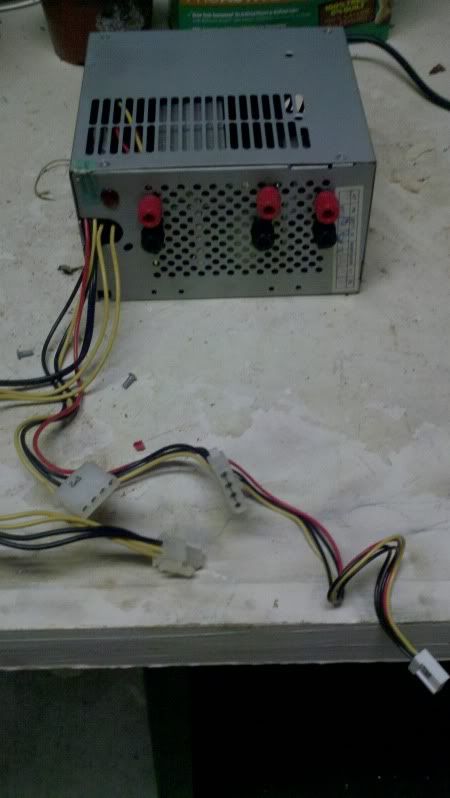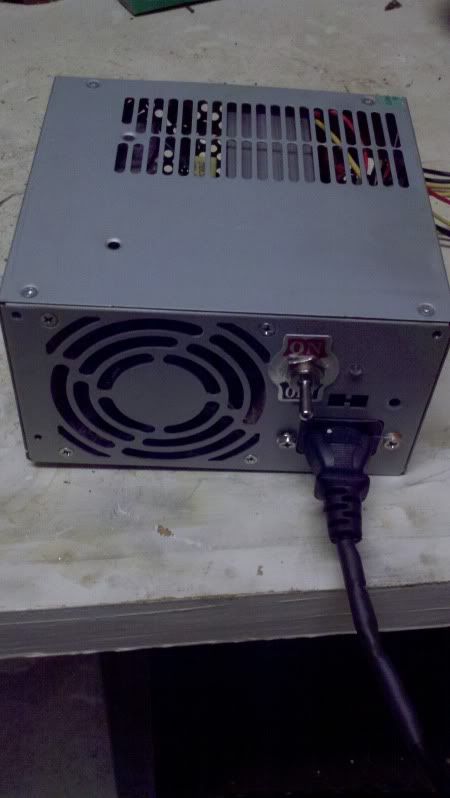 01-11-2012, 03:46 PM

RE: building equip
---
For some reason, the link that Paul posted for tools is incorrect. The /tools/ needs to be /model_building_tools/. Here's the link:
http://www.airfieldmodels.com/inform...ools/index.htm
I use Pauls (cafeenman) magnetic build board system. I recommend spending some time looking through his site. It has a wealth of good information. I would list
www.airfieldmodels.com
as one of my best tools.
Scott

01-11-2012, 05:21 PM
Senior Member
Join Date: Jun 2007
Location: Lake Worth, FL
Posts: 1,009
Likes: 0
Received 0 Likes on 0 Posts

RE: building equip
---
For scratch building, a bandsaw is indespensible, and a scroll saw highly desirable. I use both, but I've about worn out my bandsaw and the scrollsaw is still fine. I use the bandsaw about 10X more than the scroll saw.

If you plan on building multiple quantities of anything, a router table (or two or three) is kinda the poor man's laser cutter. A cheap old B&D single speed router will cut most balsa/plywood OK...hardwoods are a different story.

A benchtop belt/spindle sander are handy

01-11-2012, 05:36 PM

Join Date: Jan 2008
Location: Arlington, TX
Posts: 535
Likes: 0
Received 0 Likes on 0 Posts

RE: building equip
---
A good drillpres is nice to have, clamps, clamps, clamps! Harbour feight is the place to go to get cheap clamps that work, get the small spring loaded clamps, and the small 6" slide clamps if you can. Ive had mine for about 5 years with no problems and many projects completed with them.

01-11-2012, 11:43 PM

RE: building equip
---
Finding and collecting tools can be almost a hobby in itself. Places I frequent are Micro Mark, Rockler, Harbor Freight, local hardware stores, local tool shops, local metal shops, and even the cosmetics department in the large pharmacies.

If you are serious on scratch building, I agree with others about having a band saw and drill press. Dremels are good for any type of building.

While I don't have one yet, there's a couple of brands of micro table saws that look pretty good. The only thing is that they cost more than my full size table saw! I also would like to get a drum thickness sander in the future too.

While not a tool, another must have is good lighting. I have 6, 4' 2-bulb florescent lights in my garage using daylight color corrected, high output bulbs. These replaced the 5 standard 2-bulb fixtures I had before, and it's a big improvement.

Scott


01-12-2012, 12:03 AM
Senior Member
Join Date: Jun 2007
Location: Lake Worth, FL
Posts: 1,009
Likes: 0
Received 0 Likes on 0 Posts

RE: building equip
---
I have a Rigid belt/spindle sander and have found it very useful for making perfectly matching shallow angle splices on sticks and strip stock. Feed both side of the splice into the belt together and their angles will match. Its been a great tool for cleaning out the scrap box by splicing all sorts of bits and pieces together. I made a "butcher block" look tail for an Ugly Stick out of scraps and it came out looking very different and cool.