Xfile's Ported MGT 8.0

03-07-2009, 10:11 AM
Junior Member
Join Date: Mar 2009
Location: , NETHERLANDS ANTILLES
Posts: 12
Likes: 0
Received 0 Likes on 0 Posts

Xfile's Ported MGT 8.0
---
Hello all! My first real attempt at hopping up my MGT 8.0.
First and Foremost: Ported sleeve, ported carb, turbo cranked. All engine and carb work done by my good friend AgentGreen from the AE forums.
In addition: RPM A-arms / FT tuned pipe / FT Opt Alum Steering kit / Factory Team Clutch option upgrade (lined with Trex 500 by Agent green)/ FT titanium front turnbuckles and rear link rods / FT Aluminum shocks with Red firm springs and 60wt shock oil / Nova Racing Alum cooling head / 40 series Masher tires and Cheyenne rims / Custom sprayed shock towers / Hi-Tec 333oz Titanium steering servo (Thx again Agentgreen) / my first attempt at a clear lid, the Proline F-650.
Original link here with all pics in detail, lid on and off. (Page two (2) has my basher MGT, in all its busted pride and glory:
http://www.aeforums.co.uk/forum/inde...showtopic=3884
Next to my new Baja 2.0 for size check.

03-07-2009, 11:29 AM
Senior Member
Join Date: Jul 2005
Location: Torchy the Fiery Fast RC Turtl
Posts: 10,544
Likes: 0
Received 0 Likes on 0 Posts

RE: Xfile's Ported MGT 8.0
---
Nice looking trucks there! And welcome to RCU
As for your modded engine, what is your new timing profile? How well does it perform? (Have you ran it through a laser speed trap or otehrwise clocked it?)
You have a nice collection there, a 5B alongside your MGT. Well over $1500 sitting on that table alone

thanks for sharing!

03-07-2009, 11:44 AM
Senior Member
Join Date: Jan 2009
Location: Victorville, CA
Posts: 463
Likes: 0
Received 0 Likes on 0 Posts

RE: Xfile's Ported MGT 8.0
---
Welcome to RCU ;-)............. Man I would love to have either one of those rc's sitting on my table lol.......... Agent did a great job on your modded engine, when you gonna post up vids of it?

03-07-2009, 12:51 PM
Member
Join Date: Jun 2007
Location: , ON, CANADA
Posts: 68
Likes: 0
Received 0 Likes on 0 Posts

RE: Xfile's Ported MGT 8.0
---
Thankyou ilanstylz
the timing profile is same i didn't see any need in changing
this is a torque mill I just helped it do what it does best. the squish band was also
not set to 0.65mm for the simple reason it helps promote good low end to
mid and this thing can destroy clutch's already....
as for the bench mark used didn't use laser speed traps or clocked with radar
as this is not a speed truck or something that goes faster
the bench mark used was 1.7lbs weighted tires... and how the engine reacts to it
if it can rip all 4 weighthed big joes around on pavment at certain engine temps
tune and temps...
the trex liners used where the Trex 700 and 600 clutch liners
my 8.0 dont like shoe clutch's anymore it destroys them in 3 tanks
wich is another great bench mark
The factory Team steel clutch the heli clutch conversion for the 8.0
is the only thing I have found that'll offer the proper slip and grip
and durability over shoes...
and that is 1 of 3 8.0 engine setups I set him up with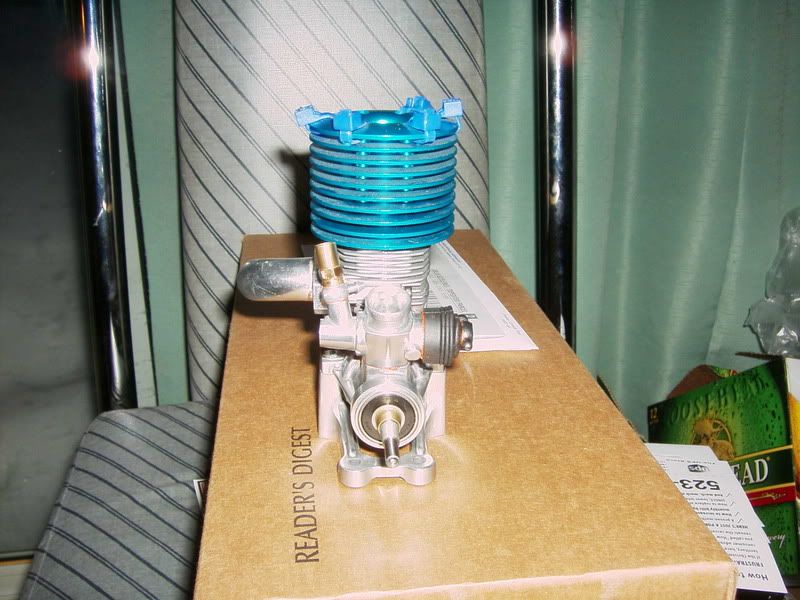 here's a video of -20c
cold temps cold engine temps and above factory rich settings camera gets better a 2minutes 40
with the weighted tires...
http://www.youtube.com/watch?v=bjE-t53xa9c
http://www.youtube.com/watch?v=GrTIk_JGz-I&NR=1
I em no expert
ive just been studying 2 strokes for 6 7 years
most of my information comes from alexandre graham bell..
i did this for a friend free of charge... and gave him extra
engine internal for if anything happends...
just helped in general to have a one unique and original mgt
can't wait to see these engines on his light tires....

really dying to see a vid

P.s If there's any heli guru's and or experts with heli clutch's with liners...
Id like to know a few questions have any of you tried different thickness's in hightemp
gasket material as liners or found any substitutes or sheets of the materials ?
thanks for your time ...