Yoshioka Flash

06-14-2020, 01:23 PM

Yoshioka Flash
---
There were several different sizes available - this one is .45 size. It's not considered serious pattern potential - at least for upper level classes, but its all I've got and thought I'd share here. The kit was given to me by a fellow student while attending university around 1988 - '90. Yoshioka kits were so efficiently packed that if you pulled a few too many pieces out, it was next to impossible to put them all back in the box and get the top to go back on again. I built it in the mid-'90's and flew it in some local club contests; at one point while practicing for a contest, I miss-judged clearing a tree and broke the fuse in half close to the wing TE on final approach after a flame-out. The airplane was repaired and flown for years afterwards until about ten years ago. It was put up on the wall with a cracked tail gear wire, a broken cowl with fuel blistered paint, plans to replace the wire landing gear with one formed from aluminum, and an engine swap to one with more linear throttle response (YS to OS Max).
As I recall, the Flash has it's share of problems (humbly admitting it may be no fault of the design but rather the operator) that I didn't find in another airplane I was flying previously - it was a tri-cycle design, .40 size Royal Telstar ARF (rebadged? EZ Cavalier .40) The Flash is probably one of the most difficult airplanes to take off I've ever experienced in 40 years of flying models. The main gear is typical torque mount overlapping, music-wire mounted to the fuselage just in front of the wing. On grass, during take-off roll, it starts veering if not arrested early and begins the ugly S-turns during the stick dance and transition to rudder authority. I've only flown it off asphalt a few times and believe it was much easier. In an effort to rectify the problem, the gear is raked back 2 inches - I will add significant toe-in. The airplane has a single aileron servo using torque-wire linkage to drive the ailerons, so any differential trimming must be done mechanically. During one contest, I was told by an official judge that my "airplane doesn't present well". Consultation has revealed to me that color scheme balance has a lot to do with presentation - this airplane has drastically different topside and underside colors.
Following are pictures documenting the repairs and mods made to the airplane to get it flying again. I opted to stick with the designer's intentions and cancelled plans to switch to the aluminum gear leg and also kept the YS installation. The tailwheel was repaired without removing the rudder. The cowl was repaired with glass and partially repainted. The wire main gear got balsa and ply gear fairings to try to improve aesthetics. The wheel pants got some support rings installed to eliminate reliance on cantilever attachment and were repainted.
Improvised tail wheel repair -
Cowl repair -
Blistered paint removal -
Repaired and partial repaint of cowl -
Main gear fairing installation -
Gear prior to covering -
Covering gear -
Lustercoat white came out off-white -
Locating masking lines -
Wet sanding prior to colors -
Gear rake-back -
Completion -
---
Last edited by H5606; 06-14-2020 at

02:04 PM

. Reason: spelling

06-17-2020, 03:15 PM

Join Date: Feb 2002
Location: glen allen, VA,
Posts: 2,160
Likes: 0

---
Very nice Flash 45. I've built and flown one of those and two 60 sized versions (all from the very well packed kits!). They all fly great. My Flash 45 only had a couple of hundred flights before radio failure ended her life. The two Flash 60s combined for about 2,000 flights; the second one had a fatal mid-air last fall after more than 1200 flights. Back in the mid '90s a fellow R/C pilot suggested I build one as a sport/practice plane and I have loved the simplicity and great flying characteristics of the design. Enjoy yours!
-Will

06-20-2020, 05:51 AM

Join Date: Feb 2014
Posts: 9
Likes: 0
Received 0 Likes on 0 Posts

---
Nice plane.

I had two Flash 45s. One was a kit and the other was scratch built from the plans of the kit I had. Both had retracts and the scratchbuilt had 2 piece wings and still weighed 5.5 lbs with a Magnum .70 FS. The scratchbuilt had the 45pro wing tips. This made it snap roll easily. The original Flash had flaperons and I don't recall it having any difficulty in TO and landing. It had a Fox .50 abc . But the Pro took a long time to bleed off speed for landing, and if you got it down to a certain speed and thought it was time to flare, and were wrong, it would snap. It happened once and I pranged it. It pitched up and half rolled and came down on it's back.

Flew on rails though. The dihedral made concentric loops easy. Verticals with the .70 were limitless.



07-12-2020, 02:23 PM

---
Ground handling was thought to be improved by substituting a custom aluminum landing gear with the 2"of rake-back in place of the rather unrefined spindly appearance and springy-ness of the music wire gear legs. After mulling over the changes to the forward fuselage chin area and weight increase to accommodate an aluminum gear, I decided to stay with the stock music wire gear and instead added the fairings for cosmetic benefit. After fabrication of the aluminum gear and comparing weight to the stock gear, it just reinforced my decision to stay with the wire gear.
Balsa blank fabrication -
Carving out cove for gear wire -
Card stock patterns used to fabricate 1/64" ply skins to cover balsa cores -
Tools used to cover gear fairings -
Prep work for covering material with sharpened brass tube at radii and knife for the straights -
Lower side cover and seam trim -
Gear leg clamped in vise - covering pulled against blade to trim along Sharpie line -
Aluminum gear and wire gear with fairings -
Aluminum gear leg -
Wire gear with new fairings -
---
Last edited by H5606; 07-13-2020 at

08:22 AM

. Reason: clarifications

07-12-2020, 04:14 PM

---
The tail wheel gear wire fractured at the bend right where it comes off the bottom of the rudder from repeat cold working and bend adjustments. I didn't want to pull the rudder off, so I cut the old one off and fashioned a new design gear wire that plugged into the bottom of the rudder and bonded in with Hysol. Wear on the aluminum wheel hub caused the bearing hole and washer counterbore to become way oversize and the wheel to wobble, so the wheel hole was drilled out to fit a brass bushing.
Recall replacing the canopy with a Kyosho part that was a close match after some trimming I found at a hobby shop - the original had a green tint and suffered from handling during extreme triple digit temps at a contest - I sometimes rest my palm against the canopy during start-ups which left an unsightly palm print on the heat-softened canopy. I prefer opaque balsa canopies because of this trait however, shade or a white towel comes in handy now to protect the canopy from becoming too hot while pitting in the summertime heat.
Original tail gear design -
Replacement fix -
Brass bushing installation for OEM wheel -
Washer retainers re-soldered to new gear wire - counterbore is now worn oversize; if done properly, the hub can be completely smooth -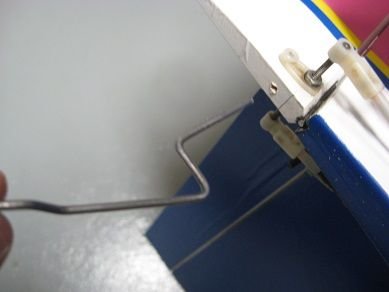 Preparation to mark for horizontal wire trough in bottom of rudder -
Note yellowing of Chevron clear on cowl and substitute canopy -
---
Last edited by H5606; 07-13-2020 at

08:00 AM

. Reason: clarifications

07-30-2020, 09:44 PM
Junior Member
Join Date: Jul 2020
Posts: 3
Likes: 0
Received 0 Likes on 0 Posts

Flash 45 pro
---
Good morning all
I am looking for a Flash 45 pro plan.
I owned one in the 90s.
I'm looking for a plan to rebuild another.
I noticed the Builder's plan gallery site.
But impossible to register.
So if you have a solution that would be great.
thank you in advance

08-23-2020, 11:13 AM

---
I'm not sure what the differences between the Flash and Flash Pro are outside of the wing tip design but I do have the original Flash plans -

08-29-2020, 03:31 PM

YS .45 problem -
---
After putting this airplane back in service from a ten or more year hiatus, I've only had the pleasure of one rather short flight on two separate trips to the flying field recently -

On the first attempted day and using Omega 15%, I got the engine running but it wouldn't take throttle without becoming ragged and eventually quitting. Changed the plug with no change in running characteristics. An idea came to mind at the field and without getting too invasive, I thought that freeing up the regulator by rotating the regulator screw with a small screwdriver through an access hole in the cowl could be beneficial however, it was frozen and I didn't want to distort the screw slot. I could start the engine each time, but it wouldn't take throttle and would quit when the glow driver was removed. I gave up. At home, I pulled the spinner, prop, needle valve, header, and cowling. To my surprise, the regulator screw now turned freely with a proper sized screwdriver, so it was rotated a half turn in one direction, a full turn in the other direction, and a half turn back to original position. There was some green sludge on the threads in the regulator body that was cleaned off. I also noticed a ring of discolored sludge on the inside of the cowling in line with the front bearing/drive plate. Everything was put back together and the airplane sat for a few weeks until the second attempt at flight.

On this occasion, Crewl Power 10% was used and after turning the H.S. needle valve in one full turn, the engine was running the way I remember it did a decade ago - its like the brushless of glow power - quiet, smooth, and powerful. So I took off and was very happy to be able to perform turn around maneuvers at each end of the field and some passes with a few vertical maneuvers thrown in here and there for at least a couple minutes. On one straight and level pass the throttle was advanced and it became ragged again - the throttle was kept low, the engine slowed down eventually quitting, and I landed. Back at the pits, I started the engine up but it would quit as soon as glow driver was removed. New plug - same result but noted it would respond to throttle increase with glow driver attached. It was getting late, gave up, and went home.

Would appreciate any expertise diagnosing, recognition of symptoms, or ideas to try out here -

Background and history of engine:

~30 year old YS.45 - single owner from new - had new regulator diaphragm, bearings, piston & sleeve, and I think gaskets installed over ten years ago -
Ran well 10 or so years ago - throttle response was never linear and requires a throttle curve -
I believe I used to use Cool Power - thoughts were to avoid fouling intricate passageways for the regulator system with castor -
I think I would run Omega through the engine for a short time before any long term storage - thoughts were that castor would prevent corrosion but realize it may defeat the purpose of my thoughts on 2nd line -

O.S. #8 plug -
APC 11X7 -
Regulator screw flush with housing but seems frozen again -
H.S. needle open 1 full turn from closed -
Hatori pipe and header -
Piston shows vertical wear marks -
Bearings are not silky smooth after storage for years but certainly not gritty -
---
Last edited by H5606; 08-29-2020 at

04:29 PM

. Reason: Added info

08-30-2020, 01:19 AM
Junior Member
Join Date: Jul 2020
Posts: 3
Likes: 0
Received 0 Likes on 0 Posts

---
Bonjour
Tu dois tout changer, chemise, piston, roulements, membrane de régulateur,, cla&pet de régulateur et joint de toutes sortes.
Tu chauffe le carter avec un décapeur thermique pour extraire les roulements.
Tu trouveras tout ce qu'il te faut chez RC JAPAN YS45.
A l'époque, j'utilisais une 11.9 apc avec le tuned pipe d'origine.
Salut.


08-30-2020, 08:14 AM

---
Originally Posted by
Jean Michel
Bonjour
Tu dois tout changer, chemise, piston, roulements, membrane de régulateur,, cla&pet de régulateur et joint de toutes sortes.
Tu chauffe le carter avec un décapeur thermique pour extraire les roulements.
Tu trouveras tout ce qu'il te faut chez RC JAPAN YS45.
A l'époque, j'utilisais une 11.9 apc avec le tuned pipe d'origine.
Salut.
Bonjour Jean,
Merci beaucoup pour votre aide.
If the engine runs for a couple minutes like it is supposed to, was hoping simply running or cleaning would make it healthy without parts replacement.
Also hoping it wouldn't be necessary and am willing to change all these parts however, I don't have a new plunger valve for the regulator diaphragm (not sure if this is a perishable part).
I've changed the bearings before using an oven so I don't anticipate difficulty doing it again.
I got my parts through YS Parts and Service in NV a couple years ago.
Never tried an 11x9; I think I tried an APC 11x8 but it didn't run as well as the 11x7 - I didn't play with pipe length though...
Salut.